The cross-border vaccine mandates for truckers in/out of Canada have caused a stir among the trucking community. By Sunday, truckers from around the country embarked in several convoys headed to Ottawa, Canada's capital, to protest a federal vaccine mandate, according to CBC News.
Called the "Freedom Rally" against the federal mandate for cross-border truckers, Canadian truck drivers are furious with the Jan. 15 order to force unvaxxed drivers into two-week quarantine and COVID-19 testing before crossing into Canada.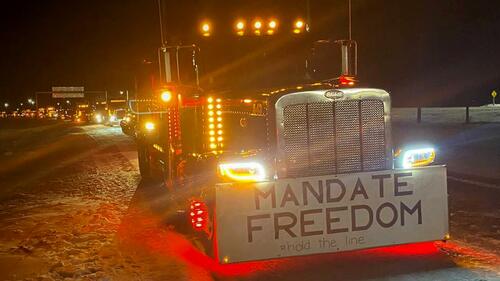 At least 26,000 out of the 160,000 (16.3%) drivers who make frequent trips, hauling goods across the Canada-US will be sidelined. The convoy began one day after the US required truck drivers at border crossings with Canada to be fully vaccinated.
A GoFundMe has been set up to help drivers participating in the rally cover expenses like fuel and food. By Monday, over 40,500 people donated to the cause, raising more than CAD 3 million.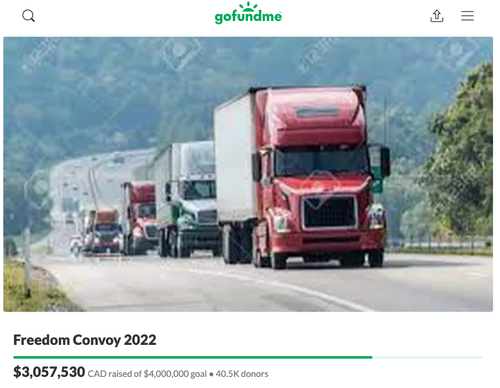 Organizers of the rally said, "to our fellow Canadians, the time for political over reach is over."
Our current government is implementing rules and mandates that are destroying the foundation of our businesses, industries and livelihoods. Canadians have been integral to the fabric of humanity in many ways that have shaped the planet.

We are a peaceful country that has helped protect nations across the globe from tyrannical governments who oppressed their people, and now it seems it is happening here. We are taking our fight to the doorsteps of our Federal Government and demanding that they cease all mandates against its people. Small businesses are being destroyed, homes are being destroyed, and people are being mistreated and denied fundamental necessities to survive. It's our duty as Canadians to put an end to these mandates. It is imperative that this happens because if we don't, our country will no longer be the country we have come to love. We are doing this for our future Generations and to regain our lives back.

We are asking for donations to help with the costs of fuel first, and hopefully food and lodgings to help ease the pressures of this arduous task.

It's a small price to pay for our freedoms. We thank you all for your Donations and know that you are helping reshape this once beautiful country back to the way it was.

In order for your generous donations to flow smoothly, the good people at Go Fund Me will be sending donations directly to our bulk fuel supplier and are working out the details now which means your hard-earned money is going to straight to who it was meant for and need not flow through anyone else. Any leftover donations will be donated to a credible Veterans organization which will be chosen by the donors.
The goal of the convoy is to arrive in Ottawa later this week and create a large enough presence to demand lawmakers to put an end to the mandate.
Sidelining truckers on the Canada-US border has been a perfect storm for already stressed supply chains. Some supermarkets are already reporting rising food inflation and shortages of certain products.
Undoubtedly, this will bring more pressure in terms of bottlenecks and the availability of truck drivers to traverse the border as the number of eligible drivers shrinks due to the mandate.
Here are some views from the ground of the convoy rolling down highways to Ottawa.
We still don't know how bad the disruption will be. Still, considering a significant amount of fresh fruits and vegetables flow across North American borders, it could be a logistics nightmare if the mandates on both sides of the border aren't repealed.
https://www.zerohedge.com/political/truckers-head-ottawa-freedom-rally-against-vaccine-mandate